Hi everyone! So it's been snowing all day long, and I'm just so ready for spring! Since this my second winter up north, I have to say this year we really haven't had as much snow as last year. It has just been much colder, January especially. Which even though is not fun, we have had a lot more sun, which helps a lot! Last year, between January and March there were probably about 3 weeks where it was just always snowing, and we never saw the sun. It was really depressing, and I'm hoping the rest of February and March won't be the same way this year.
I'm already so done with sweaters and snow boots and ready for shorts and sundresses! Sadly, unlike at home when I could start wearing shorts and sandals around late March, it won't be that warm up here until at least mid-April. Last year was weird, because we had some gorgeous days throughout April and May, but in the middle of May as I was going home for the summer it was in the 40s. I will never forget, walking to my last exam of freshman year, with snow flurries...
Anyways, here are some things I'm looking forward to:
The first thing is I have several dresses that I haven't been able to wear yet, or have only worn once
(source)
Starting with this Lilly Pulitzer Langley dress. I ended up getting it for $51, marked down from $258 towards the end of the summer, and I just haven't been able to wear it to anything yet. It's probably my favorite Lilly dress I own though. I know I will be wearing it for Easter!
(source)
I also got this Lilly Pulitzer Briella dress for my birthday about a month ago, so I haven't been able to wear this one either. I think it will be so great for church or maybe even for class
(source)
I got this Milly dress for Christmas, also can't wait to wear it. Not sure where I will wear it yet, but I'm excited for it! I almost didn't ask for it for Christmas because I don't know when I can wear it, but it was on sale for a fourth of the price!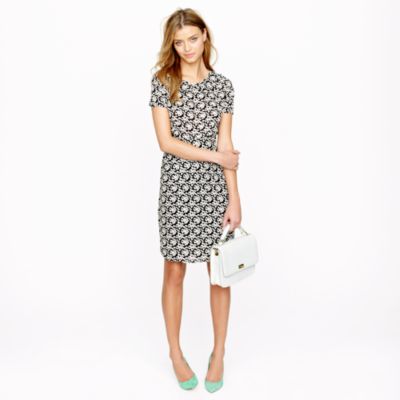 (source)
Over Christmas break, I snagged this bow dress at J. Crew Factory for $16! I'll probably be wearing this one first of this list since it's mostly black.
(source)
I also got this Lilly Pulitzer Sherlynn dress over Thanksgiving break and I've been able to wear it once. I feel like these colors will definitely work in the summer, even though it was from the fall collection.
(source)
I also can't wait to wear Jack Rogers again! Even though I have 4 pairs of Jacks, I actually don't have a pair of neutral navajos, so I plan on getting this lovely platinum color. And possibly the navy glitter ones as well, if I can.
What I really live in, in the spring and summer is chino shorts! These are some of mine, I always like to wear them with button down shirts and statement necklaces or with plain tees.
Thanks for reading!